Volvo XC90 named Auto Express Car of the Year 2015

 


The Volvo XC90 has been named Car of the Year 2015 and Large SUV of the


Year at this year's Auto Express New Car Awards.

 

Volvo Cars' award-winning XC90 is already close to selling out its entire first


year's planned production run of 50,000 cars. To date over 44,000 cars have


been ordered.

 


"This award reflects the great passion that Volvo Cars puts into its new cars.


We understand our customers' desire to have beautiful cars - cars that make

their lives easier by delivering the latest technology - but in a user-friendly manner.


We also understand the driving need for powertrains that deliver efficient performance,


and a chassis that provides a balanced and engaging driving experience,

" said Dr Peter Mertens, Senior Vice President Research & Development at


Volvo Car Group, accepting the award.

 


Steve Fowler, Editor-in-Chief of Auto Express, said: "We've been waiting a long


time for the XC90, but it was well worth the wait - it's a sensational SUV. It not


only sets new standards for Volvo, but for the car market in general, leading in


terms of technology, efficiency, style and safety. It's also got an element of


style - inside and out - that you might not have expected. If the XC90 points the

way for the future of Volvo, the future looks very bright indeed."




The all-new XC90 is the first car to be built on Volvo Cars' Scalable

Product Architecture (SPA) using its acclaimed Drive-E powertrain technology.

 


A blend of rich Scandinavian design elements, both inside and out, makes


the XC90 stand out from the crowd. Delivering a commanding road presence


with the distinct 'Thor's Hammer' LED headlights and larger grille, the XC90's

powerful exterior design makes a strong, yet subtle statement.

 


The interior's crowning glory is the in-car control system, Sensus. This intuitive

system controls all the major functions of the vehicle, from the infotainment, phone,


navigation and connectivity features. The interior is the epitome of Scandinavian


design, a serene and relaxing environment, combining the finest natural materials


available such a leather and wood, and at the same time being a practical

seven-seat SUV.

Note to Editors:

Since its launch in August 2014, the Volvo XC90 has been the recipient of many

high profile awards, recognising its innovative approach to design, both interior

and exterior and its ground-breaking approach to in-car control systems


and connectivity features with its Sensus technology.

 


News Alert June 16th 2015



Volvo Cars' Robin Page voted Interior Designer of the Year at the

2015 Automotive Interiors Expo

Robin Page, Head of Interior Design at Volvo Car Group, has been chosen from a


list of highly distinguished automotive designers to receive the Interior Designer of


the Year Award.  The judging panel also awarded the new Volvo XC90 with the


title "Interior Design of the Year - Production Vehicle".

 


Presented at the Automotive Interior Expo Awards 2015 in Stuttgart on June 16th,

the awards reflect the huge strides forward that the Volvo Cars' brand has made in


pure design termswith the launch of the XC90.

 


"I am humbled by this award. The interior design of the XC90 reflects a paradigm


shift for Volvo Cars. At Volvo Cars we focus on creating an overall luxury life experience.


This means using natural materials such as wood, leather and crystal in a way that

delivers calmness and serenity to the driving experience," said Robin Page,


Vice President Interior Design at Volvo Car Group.

Earlier this year the Volvo Design team was awarded the prestigious Red Dot Design

'Best of the Best' Product Design Award for their work on the XC90, beating almost

5,000 other products across 31 product categories.

 


"As we take the Volvo design language forward we are very much aware of our heritage

. Safety, quality and environmental care are fundamental building blocks of Volvo cars.

So everything we do must deliver these brand promises. Without delivering these


elements you cannot possibly deliver a sense of wellbeing in a car's interior. First


comes safety, then comfort and then overall luxury experience. These elements


combine to deliver a sublime experience unlike any other in the luxury car segment,"


said Thomas Ingenlath, Senior Vice President, Design at Volvo Car Group.

 


Volvo Cars' fresh take on Scandinavian inspired design is proving incredibly popular


with prospective customers, with pre-orders of the XC90 already accounting for


half of the anticipated 2015 production volume.

 


-------------------------------





News
Alert  June 8th 2015



ID: 163586

Volvo Cars Safety Experts recognized for excellence by NHTSA

 


Dr Trent Victor and Jonas Ekmark singled out by U.S. Government for Safety
 Engineering Excellence and Special Appreciation Awards
Recognition builds further on Volvo Cars' global reputation as a leader in car safety

 


Two of Volvo Cars' top safety experts, Dr Trent Victor, Senior Technical Leader Crash

The awards, presented by the National Highway Traffic Safety Administration at the 24th

International Technical Conference on the Enhanced Safety of Vehicles (ESV) in Gothenburg


on June 8th 2015, were in recognition and appreciation for extraordinary contributions in the


field of motor vehicle safety.

 


"This award represents strong recognition of the importance of driver behaviour in reaching


safety solutions for a crash-free future. It is an inspiration to all of us working on safety

solutions at Volvo Cars. It emphasises our customer focus and further encourages our


work in developing crash avoidance systems that are both coveted and highly effective at

improving safe driving," said Dr Victor.

 


Dr Victor, an internationally recognized safety expert, has worked in the field for over 20 years.


In that time he has filed more than 20 patents and published over 60 papers on the subject

while establishing a unique track record of applying behavioural science data to crash

avoidance innovation. He is currently focusing on minimising the risks of inattention or

distraction caused by infotainment systems using eye-movement monitoring, designing

crash avoidance active safety systems and autonomous drive functionality. Dr Victor's

expertise in behavioural science also lends itself to a unique focus on naturalistic data -

the human side of the safety equation - which fits seamlessly with Volvo's focus on meeting


and exceeding the needs of people in the car experience.

 


Jonas Ekmark, who has also demonstrated both imagination and foresight in his work

in developing safety systems has a résumé full of world first inventions and applications


that have gone a long way in further cementing Volvo Cars' position as a global leader in


car safety. Since 1994 Mr Ekmark has registered more than 30 patents in his work for

Volvo Cars. His achievements include the development and application of auto braking systems

aimed at either reducing or avoiding potential collisions. Initially his work focused on collisions

with other vehicles, but that has now expanded to include pedestrians, cyclists and animals.

Mr Ekmark also continues to play an important role in the development of autonomous drive

system development and connectivity-based safety data sharing projects.

 


"I am really honoured and happy to receive this recognition for the work we do here at


Volvo Cars. Our focus is, as ever, people. Our long-term vision is to design cars that do not


crash. The development of self-driving technology is an important step towards that vision.


Recent advances in technology and our consistent approach of basing our innovations on


real-life safety situations are enabling us to redefine the in-car experience. Awards such as


these let us know that we are capable of making a difference - and that is very satisfying,"

said Jonas Ekmark, Manager Innovation for Active Safety and Chassis at Volvo Cars.
Press Release
| | | |
| --- | --- | --- |
| Date of issue |   | Dec 11, 2014 | ID: 154663 |
Volvo Car Group already testing its new three-cylinder engine
New 3-cylinder engine developed by Volvo Cars in Sweden
Volvo's next step in its impressive Drive-E powertrain program
Broad range of performance levels up to around 180 hp
Volvo Cars today confirms its production program to develop a lightweight 3-cylinder petrol engine. The engine, wholly developed in Sweden, will join the class-leading 4-cylinder Drive-E engines in displaying Volvo's engineering prowess and commitment to efficient power.
"We have come a long way in the last few years at Volvo. Investments from our parent company, Zhejiang Geely Holding Group, have enabled us to recapture our position as a leader in the field of powertrain engineering. The development program for the new 3-cylinder engine is very advanced and we have already begun prototype testing of the unit," says Dr. Peter Mertens, Senior Vice President Research & Development at Volvo Car Group.
Volvo has a long history of developing its own unique 6, 5 and 4-cylinder engines and in-house expertise. The move to include a 3-cylinder in Volvo's engine program is a natural next step in Volvo's strategy of downsizing. The application of class-leading technology and analysis techniques enables more power and better fuel economy from smaller displacement internal combustion engines than ever before.
"We have learned a lot from the development of our 4-cylinder Drive-E engines and translated this into a highly responsive, compact and powerful premium-quality 3-cylinder engine.  The engine is being developed primarily with our new CMA architecture in mind but will also provide power for our 60 Series cars thanks to Volvo's advanced turbo technologies, while also meeting Euro 7 emission targets," says Michael Fleiss, Vice President Powertrain at Volvo Car Group.
Built with a keen eye on the future, the new Drive-E 3-cylinder engine is designed to support several different applications, in-line with the growing demand for a real-world blend of performance and efficiency.
"The beauty of the new 3-cylinder engine we are developing is that it can be built on the same production lines as our 4-cylinder engine, offering flexible production potential which can be adapted to suit business needs as we grow. This marks an important step forward for Volvo Cars. In terms of our power and efficiency, Volvo's engineering excellence will shine through with the Drive-E 3-cylinder engine," concludes Dr. Mertens.
Notes for editors:
Volvo's all-new 4-cylinder Drive-E Powertrains were launched to great acclaim in 2013 offering world class fuel consumption and performance
The 4-cylinder Drive-E engines are used as the base of the new Volvo Twin Engine plug-in hybrid powertrain
Volvo has been developing its own powertrain solutions since the company was founded in 1927
The first Volvo engines were cast-iron block side valve engines
Volvo has built a wide range of 4, 5, and 6 cylinder variant engines over the years
The Drive-E 3-cylinder engine is yet another step towards zero emissions and real-world performance from Volvo
---------------------
Volvo Car Group in 2013
For the 2013 financial year, Volvo Car Group recorded an operating profit of 1,919 MSEK (66 MSEK in 2012). Revenue over the period amounted to 122,245 MSEK (124,547 MSEK), while net income amounted to 960 MSEK (-542 MSEK). Global retail sales for the year amounted to 427,840 (421,951) cars, an increase of 1.4 per cent compared to 2012. The operating profit was the result of cost control and strong sales and was further tangible proof of Volvo Car Group's progress in implementing its transformation plan. For the full year 2014, the company expects to stay in black figures and predicts to record a global sales increase of close to 10 per cent.
About Volvo Car Group
Volvo has been in operation since 1927. Today, Volvo Cars is one of the most well-known and respected car brands in the world with sales of 427,000 in 2013 in about 100 countries. Volvo Cars has been under the ownership of the Zhejiang Geely Holding (Geely Holding) of China since 2010. It formed part of the Swedish Volvo Group until 1999, when the company was bought by Ford Motor Company of the US. In 2010, Volvo Cars was acquired by Geely Holding.
As of December 2013, Volvo Cars had over 23,000 employees worldwide. Volvo Cars head office, product development, marketing and administration functions are mainly located in Gothenburg, Sweden. Volvo Cars head office for China is located in Shanghai. The company's main car production plants are located in Gothenburg (Sweden), Ghent (Belgium) and Chengdu (China), while engines are manufactured in Skövde (Sweden) and Zhangjiakou (China) and body components in Olofström (Sweden).
Media Contacts

 

Stefan Elfström

Corporate Spokesman

Volvo Car Group

 

Phone: +46 31 596525+46 31 596525

Mobile: +46 31 596525+46 31 596525

stefan.elfstrom@volvocars.com

 

 

Volvo Car Group Media Relations

 

Phone: +46 31-596525+46 31-596525

Mobile: +46 31-596525+46 31-596525

media@volvocars.com

 

 
Related Images

ID: 154661
ID: 154660
ID: 154659

More Images  
Volvo Cars introduces Twin Engine technology in world's most powerful and cleanest SUV
The first Volvo designed from the ground up for plug-in/electrification compatibility, the XC90 T8 delivers all the performance of a luxury SUV, but with emission levels that even small hybrid cars struggle to match.
When designing the XC90 T8, Volvo Cars chose not to compromise on performance, driving pleasure, efficiency or even luggage space. By building on the new modular Scalable Product Architecture (SPA) platform and successful Drive-E petrol powertrain, the company has created a uniquely roomy 7-seater SUV that delivers 400hp/640Nm combined with ultra-low emissions (59g/km) and high fuel efficiency (2.5 l/100km). The fuel economy according to the U.S. driving cycle is 59 MPGe.
"The XC90 T8 is a plug-in electric car, hybrid car and high-performance car rolled into one," says Dr Peter Mertens, Senior Vice President Research and Development of Volvo Car Group. "The Drive-E engines already offer highly competitive performance versus the competition. The T8 takes it further into a leading position."
A driving mode for every need
The XC90 T8 can go from 0 to 100km/h in 5.9 seconds, delivering all the driving pleasure customers have come to expect from a Volvo SUV. But driving pleasure is only a fraction of what the XC90 T8 offers: the car has five different driving modes that deliver a range of performance and efficiency-enhancing characteristics. Using either a scroll wheel on the centre console or a touchscreen on the dashboard, drivers can choose from:
Hybrid: This is the default mode, suitable for everyday use. Here, the vehicle will automatically alternate between drawing power from the 2-litre, 4-cylinder Drive-E engine and the electric motor to deliver the best overall fuel consumption.
Pure electric: In this mode, when the high-voltage battery is fully charged, it serves as the car's sole energy source, powering the electric motor over the rear axle. The XC90 T8 has a range of more than 40km using just electricity, which covers the total distance most people drive in one day. And thanks to the regenerative braking system, this mode is super-efficient in the stop-and-go traffic of city environments. If more power is needed, the Drive-E combustion engine starts up automatically.
Power mode: Here, drivers get the combined performance of the combustion engine and the electric motor. On start-up, the SUV takes advantage of the electric motor's superior response and instant torque curve, while the combustion engine gets up to speed. This combination offers better torque at lower revs, equivalent to that of a large displacement engine like the V8.
AWD: This mode offers constant all-wheel drive on demand. The advantage of being able to select AWD manually is that the driver can use it when needed, or choose to save energy for later.
Save: If the battery is charged, this mode allows the driver to "freeze" the battery level and save it for later use with Pure Electric drive. On the other hand, if the battery is low, the driver can use the combustion engine to charge the battery to a certain level for later use with Pure Electric drive.
Under the shell
Many of the XC90 T8's powertrain features have been optimised specifically for hybrid technology. Here are the main components of the system:
Drive-E engine
A specially modified version of the 4-cylinder Drive-E petrol engine is under the hood. Already known for its ability to more efficiently deliver the power of an engine twice its size, the Drive-E engine is enhanced in the XC90 T8 by a supercharger and a turbocharger for a total power output of 318hp and 400Nm torque.
Automatic gearbox
The 8-speed automatic gearbox has also been specially adapted for the hybrid: shift-by-wire technology allows drivers to control the transmission electrically (a luxurious touch is the gearshift is made of handmade Swedish crystal). A larger oil pump provides the necessary lubrication during electric drive and enables quicker pressure build-up when seamlessly going from electric to combustion drive.
CISG
The crankshaft-mounted starter generator (CISG), located between the engine and the gearbox, performs three important functions: it is a powerful, 34kW starter motor that allows the car to go from pure electric drive to combination combustion drive seamlessly, so drivers can experience the car's petrol engine and electric motor as one unit; it is also a powerful electric generator; and finally, it acts as an electric engine booster, working with the supercharger and turbocharger when extra power is needed, providing up to 150 Nm of extra torque.
Battery
The high-voltage (270-400V) battery, delivering 65kW of power, is an excellent example of Volvo's success with the XC90 T8. While other carmakers have struggled to combine the bulk of a battery pack with a luxurious and spacious interior, Volvo has managed to overcome this challenge by placing the battery centrally in the tunnel of the car. There are several advantages to this position. For example, the battery does not impact the amount of available space inside the car. This means that there is room for three rows of seats - plenty of space for people and luggage. Furthermore, the battery placement gives the SUV a low and central centre of gravity, making the XC90 T8 easier to handle and safer to drive.
Rear electric motor
Delivering 82hp (60kW) and 240Nm torque, the large electric motor sits on the rear axle and drives the back wheels in electric and power-boost modes. The rear placement is significant because it allows for a larger motor, which is useful for following stop-and-go city traffic rhythms. This placement also makes efficient all-wheel drive possible because each axle has its own power source.
Two-step braking system
The XC90 T8 blended braking system partly uses brake-by-wire technology to recover and transmit energy back into the car, either to recharge the battery or for immediate use. The system is also equipped with a unique stability function that controls the amount of energy that may be safely regenerated.
Unique cooling and climate system
The unique cooling system is composed of two extra circuits. The first cools the CISG and the large electric motor on the rear axle, while the second cools the battery in one of two ways: either passively, via the radiator, or actively through integration with the car's climate system.
Pre-conditioning
For convenience and efficiency, drivers can pre-condition the XC90 T8's drivetrain, battery and cabin, either directly from within the car or by using the Volvo On Call mobile app. This ensures that, whether it's freezing or hot and humid outside, the car will be heated or cooled as necessary and ready to go by the time the driver enters. Pre-conditioning can be done while the car is plugged in, which is beneficial from a CO2 perspective since it ensures that the battery will last as long as possible in Pure Electric Drive mode.
A heritage of innovation
As the world's most powerful and cleanest SUV, the XC90 T8 joins a long list of Volvo Cars innovations designed to create a more comfortable driving experience, a cleaner environment and safer roads.
Here is a great testimonial to the Volvo XC70 . Mr and Mrs Logan Driving their 2013 Volvo XC70 with their grandson on board were in a high speed accident and they all walked away, they came in and purchased another Volvo XC70 and were entered into a drawing for a Rolex watch and won. We want to thank this family for their business and the great testimonial on the safety of the safest vehicles on the road "Volvo" Come on in and test drive yours today at Hunter Volvo in Asheville North Carolina, we deliver to all 50 states. Call the General Manager today Greg Clark at 888-902-8331
888-902-8331 FREE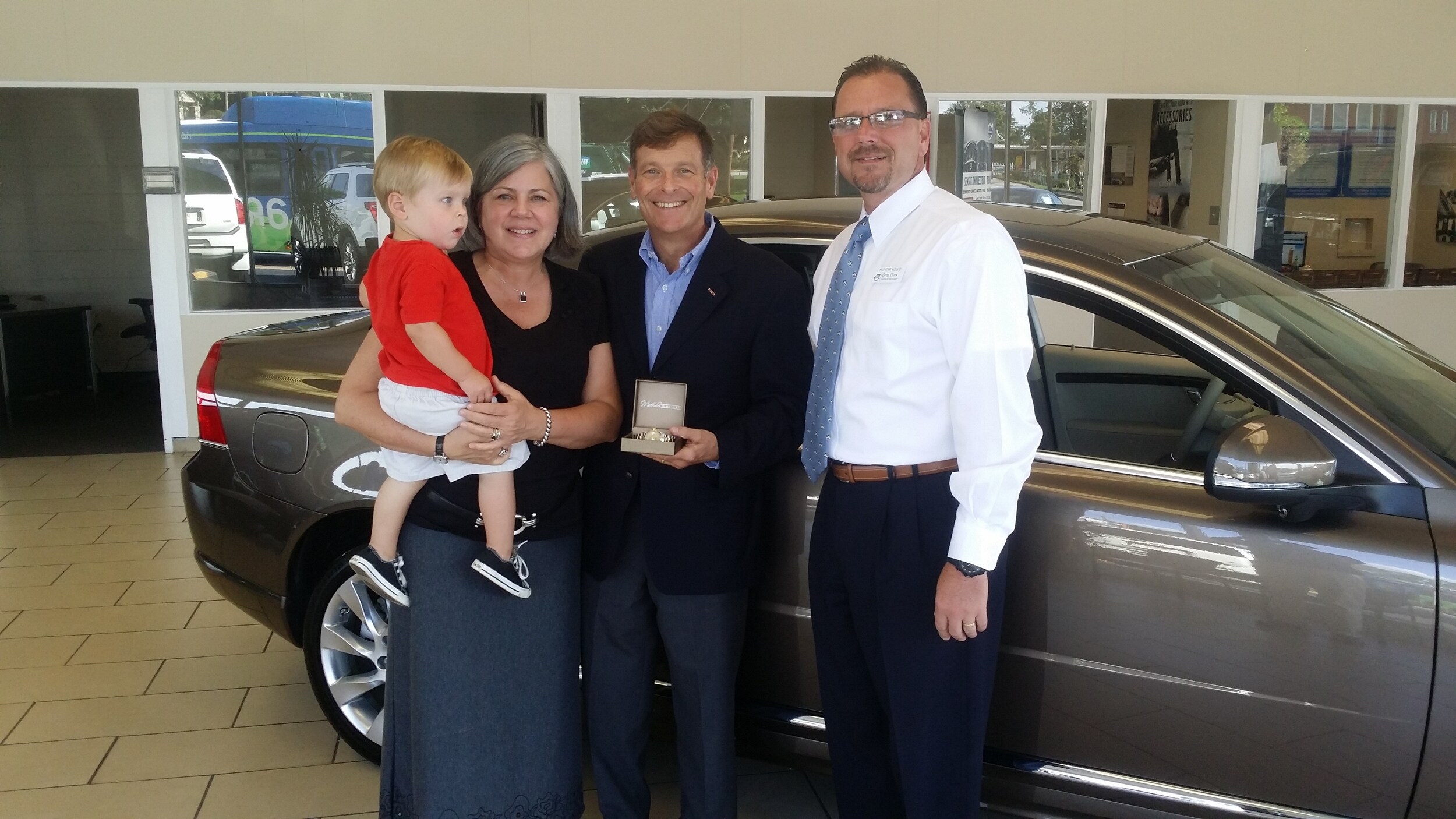 Volvo Car Group's first self-driving Autopilot cars test on public roads around Gothenburg
Volvo Car Group's groundbreaking project 'Drive Me' - featuring 100 self-driving Volvos on public roads in everyday driving conditions - is moving forward rapidly. The first test cars are already rolling around the Swedish city of Gothenburg and the sophisticated Autopilot technology is performing well. An autonomous drive car was also shown in the U.S. at the New York International Auto Show this month.
"The test cars are now able to handle lane following, speed adaption and merging traffic all by themselves. This is an important step towards our aim that the final 'Drive Me' cars will be able to drive the whole test route in highly autonomous mode. The technology, which will be called Autopilot, enables the driver to hand over the driving to the vehicle, which takes care of all driving functions," says Erik Coelingh, Technical Specialist at Volvo Car Group.
What makes the 'Drive Me' project unique is that it involves all the key players: legislators, transport authorities, a major city, a vehicle manufacturer and real customers. The customers will drive the 100 cars in everyday driving conditions on approximately 50 kilometres of selected roads in and around Gothenburg. These roads are typical commuter arteries, including motorway conditions and frequent queues.
"That Volvo Cars' hometown Gothenburg becomes the world's first arena for self-driving cars in everyday driving conditions demonstrates both our technological leadership and Sweden's dedication to pioneering the integration of self-driving vehicles," says Erik Coelingh.
Joint initiative
'Drive Me - Self-driving cars for sustainable mobility' is a joint initiative between Volvo Car Group, the Swedish Transport Administration, the Swedish Transport Agency, Lindholmen Science Park and the City of Gothenburg. The Swedish Government is endorsing the project.
"This public pilot will provide us with a valuable insight into the societal benefits of making autonomous vehicles a natural part of the traffic environment. Our smart vehicles are a key part of the solution, but a broad societal approach is vital to offer sustainable personal mobility in the future. This unique cross-functional co-operation is the key to a successful implementation of self-driving vehicles," says Erik Coelingh.
Keywords:
Safety
,
Environment
,
Technology
,
Sustainability
Descriptions and facts in this press material relate to Volvo Car Group's international car range. Described features might be optional. Vehicle specifications may vary from one country to another and may be altered without prior notification.